Inspiring for 30 years.....
Corali is delighted to be celebrating this special milestone!
We are taking a moment to reflect on a wonderful 30 years by collecting 30 quotes from different people about how Corali has inspired them. We hope you enjoy taking a moment to read these (preferably over a cuppa!)… If you'd like to gift a quote then we'd love to hear from you. Drop Jen a line at jennifer@corali.org.uk
"My thoughts about Corali… I love touring and dancing with Corali and meeting and working with new people. It's always a fresh new adventure! I have learnt so much in the 14 years of working with Corali"
- Graham Evans - Corali Dance Artist
Image of Graham performing in Technicolour Everyday at The Place 2019, photo by @joncarchdeacon
"Being with Corali Dance Company I am always around positive, creative, lively and fun people. I think people with a learning disability should have their own voice and speak up in their own way, and Corali helps me do this!"
- Bethan Kendrick - Corali Dance Artist
Image of Bethan performing her solo work Under Curve, Over Curve at The Place 2019, photo by @joncarchdeacon
'Corali generates so many ideas and discussions that broaden people's perception of disability arts. I have been lucky enough to see the transformational work that Corali does through its participatory and professional artwork and it has been a real pleasure to be part of that journey. Corali has nutured the creative minds of many and I look forward to the next 30 years of adventures.'
- Andrea Swainson, and this week launches her promotion to Engagement & Outreach Manager for Corali - we are thrilled! Thank you for all your work and dedication over the years!
Image of Andrea working on our Action Research Project 2019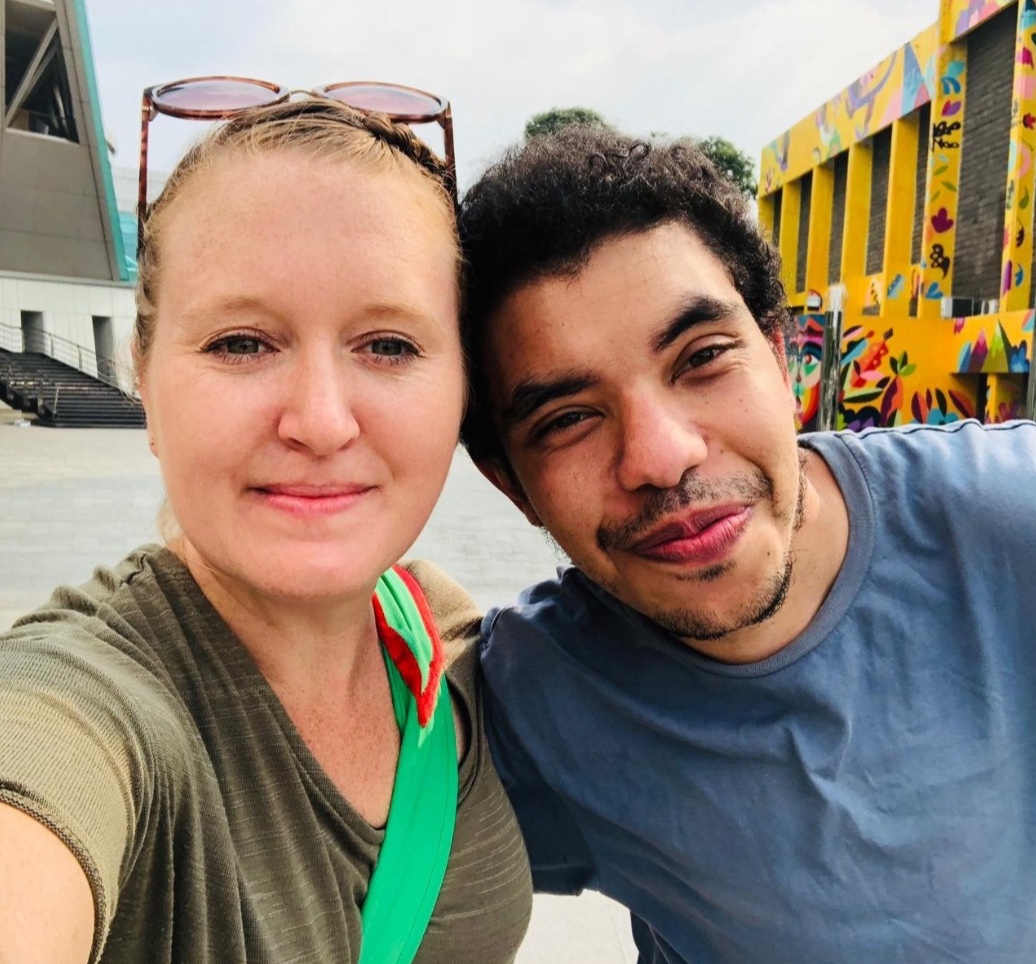 When bridges are built
Across oceans and land,
Opportunities transpire
Connections form shapes
That creativity inspire
A common language
Through movement is spoken,
Uniqueness is celebrated in our dance
And so the bridge continues to stand,
When every artist is given their chance.
- Carly Butler - Associate Artist & Facilitator
Image of Carly & DJ on their recent trip to Jakarta 2019 as part of a British Council Project with Impermanence Dance Theatre
'Corali is a wonderful example of how society should be'
- Michael Wicherek, Artistic Director, Box Clever Theatre Company
Image of Corali making Find Your Way Bethlem Gallery photo by @joncarchdeacon

'It's good to have Corali. Since joining the company I have gained a huge amount of skills and knowledge. They teach and support in a way that I understand and can grow as a person and a dancer'
- Nicole Jackson - Corali Support Artist
Image: Nicole facilitating on Corali's Dance and Performance Workshop Course at Morley College.
'I think what impresses me about Corali is the quality of the work. Their performances are a fire of imagination and wonder.'

- Leon Clowes, Development Manager, Drake Music
Image: Adieu performed in Corali with Invited Guests Thick & Tight at The Place in March 2019
'Anybody can be an artist. What you have to do is find a way to get to the heart of a performer and Corali do that; they pull the best out of everybody.'
- David Natt, Parent of Corali Artist Paul Davidson

Image: Bethan Kendrick and Julie Cunningham in a research and development rehearsal, photo by Jon C Archdeacon
'When Corali is on stage I can't help but notice what accomplished artists they have become through the years. Their professionalism and creativity never cease to amaze me.'
- Marianne Rouvier-Angeli, Corali Associate Artist
Image: Corali at British Museum Big Draw 2018 - photo by Jon C Archdeacon
'Corali is about developing skills and creativity. When we are all together we are ability not disability.'
- Paul Davidson, Corali Dance Artist
Image: Kick Up performing Bowled Over at Guy's Hospital - photo by Jon C Archdeacon
'Corali has inspired me because I see people express themselves in the most amazing ways, sometimes when they've spent their lives being told they lack the ability to express themselves.'
- Dr Simon Jarrett, Corali Trustee
Image: Corali Ident Workshop at Tate - photo by Jon C Archdeacon
'Corali has always challenged me to think about the role an artist has in society. It reminds me how important it is for us all to be seen and recognised as creative individuals.'
- Daniel Weaver, musician and composer for Corali
Image: Bethan Kendrick and Daniel Weaver in Under Curve, Over Curve at The Place, March 2019. Photo by Jon C Archdeacon
'Corali has really changed my life forever for the future. It's given me extra skills to be recognised for my creativity.'
- DJ Hassan, Corali Dance Artist
Image: DJ in rehearsal for Technicolour Everyday, photo by Jon C Archdeacon
'Working with Corali inspired me to be a better communicator, dance maker and friend. I have had some of my favourite times in the studio with Corali dancers - their generosity, talent and commitment is a joy to be around and the vision of Sarah and her colleagues is an inspiration. Here's to the next 30 years!'
- Jasmine Wilson, Director of Learning & Engagement, Studio Wayne McGregor
Image: Paul Davidson performing Dreams of Flying Reworked at The Place, photo by Jon C Archdeacon
'Corali makes me so grateful, learning how to travel, warm up and develop as a dancer.'
- Veneshia Bailey, Corali Dance Artist
Image: Veneshia in dress rehearsal for Technicolour Everyday, photo by Jon C Archdeacon
'When you work with people whose creativity inspires you, continuously surprises you and who are great fun, then time just disappears. 25 Corali years in my case and what an incredible journey it continues to be...'
- Bridget Chew, Associate Director, Corali
Image: Kick Up performing Bowled Over at U.Dance 2019 / Photo by Roswitha Chesher